The Lowell Art Association, Inc. and the Whistler House Museum of Art are pleased to welcome Dave Drinon as their newest Artist-in-Residence.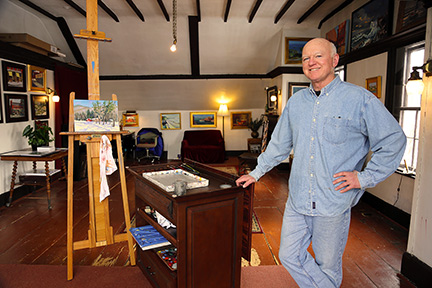 Drinon, an Andover resident, is a painter of seascapes, landscapes and cityscapes. He works from a combination of "en plein air" sketches and photos and finishes the paintings back at his studio. He describes his works as "expressive realism with a hint of fantasy."
Drinon was inspired to create art by his mother, who painted well into her eighties. As one of nine children, he enjoyed a home life that appreciated and participated in visual arts. As an adult however, he pursued a career in Financial Services and earned many awards and recognition such as a perennial qualifier of "Million Dollar Round Table," a world wide organization that recognizes leading financial service professionals. He also sits on the advisory board for the Boston Partners Financial Group.
Although engaged with a busy and successful Financial Services career, Drinon found the time to draw and sketch and occasionally bring out his paints. In 2005 he enrolled in a drawing course and eventually studied studio painting at the New Hampshire Institute of Art in Manchester, N.H. He remains strongly influenced by artist Patrick McCay, Senior Faculty Fellow and Chairperson of Fine Art at the New Hampshire Institute of Art.
"I draw inspiration from the different moods of the ocean and the mountains and thrive on the pulse, energy and many faces of a city. I strive to integrate emotion and drama into each and every piece and to utilize all my senses while painting," says Drinon.
The tradition of inviting gifted artists to create their work within the historical home on Worthen Street began in 1908 when the Lowell Art Association purchased the house as its permanent residence. Established in 1878, the Lowell Art Association, Inc. is the oldest incorporated art association in the country. Lowell resident and prominent artist Mary Earl Wood was the first artist to put paintbrush to canvas on the storied third-floor studio.
Now, 107 years later, Dave Drinon is the latest artist to take working residence in the studio and enjoys the distinction of being one of that short but unbroken line of artists-in-residence who are afforded the opportunity of creating art from within the light filled aerie overlooking Lowell's "Acre" section of the city, St. Patrick's Church and the golden dome of the Holy Trinity Church.

"Artists-in-residence are given the exclusive opportunity to concentrate on their work within a supportive environment in a unique artist's loft. The program was developed to encourage an artist to paint in a space where they can reflect, research and explore their art form, the museum and the Lowell community," explains WHMA president and executive director Sara Bogosian. "We are thrilled to have Dave join our line of artists-in-residence, which includes other well-known artists Meredith Fife Day, Dennis Lucas and Lucinda Britton."
As a Western Avenue Studios artist and now the WHMA artist-in-residence, Drinon considers himself to be an ambassador for not only the WHMA but for all of Lowell's art venues and artists.
"One of the many features I find attractive about being the Artist-in-Residence is meeting the many different people who visit and travel through the Museum. Having a working studio within a vibrant museum filled with historic paintings is an electric, stimulating environment that is more than any artist could hope for," he says.
When not working in the studio Drinon heads out for some en plein air painting, preferring the Ogunquit and Cape Ann coasts as well as the streets of Lowell. He calls these excursions "Have Easel, Will Travel" and post his whereabouts with images of what he's currently working on to his Facebook page. He never fails to engage people along the way and hopes to inspire them to visit the Whistler House Museum of Art and experience the entire Lowell art scene.
"Dave is not only a talented artist, but a delightful people person who is focused on promoting the Whistler House Museum of Art and the ever growing artist community in Lowell," says Sara Bogosian.
Drinon's work is owned by collectors nationally and institutions including the City of Lowell, Boston Partners Financial Group and Premier Beverage Corporation in Ft. Lauderdale, Florida. He was a founding member of the Andover Rotary Club in 2005, where he initiated the Rotary Club Endowment Fund. Dave and his wife Cynthia have been residents of Andover for 21 years. They have a daughter, Sarah, who lives in New York City. Drinon can be found online at www.drinonstudio.com.
Click on a thumbnail below to view samples of Dave's art work.