The Youth Summer Art Program is open to children, grades 5 to 8, ages 10 to 14 years. Each week-long session focuses on a different art form and combines exciting hands-on art creation with museum tours, art history discussions and connecting real works of art with the day's activity. Professional artists and educators will direct creative and age-appropriate activities using a variety of media in the museum's historic house, Parker Gallery and in the adjacent Whistler Park. Local visiting artists will come to speak about their works in the week's featured medium.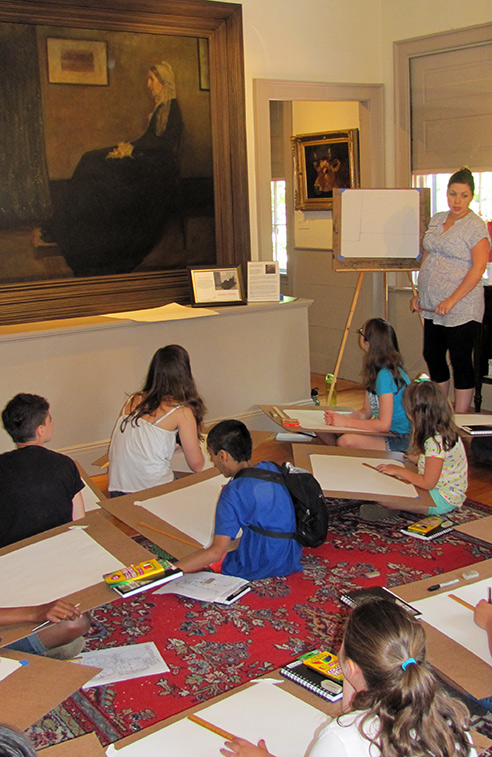 Week 1: July 9-13: DRAWING
Week 2: July 16-20: PAINTING
Week 3: July 23-27: SCULPTURE
Week 4: July 30 - August 3: PRINTMAKING & COLLAGE
Classes will take place Monday through Friday from 9:00 AM to 12 Noon. Class fee is $175 per student per week. Scholarships are available for talented students in the community who are interested in art. Please inquire by phone: 978-452-7641.
Download an information sheet and registration form.

Contact the Museum for further information on this program: 978-452-7641 or This email address is being protected from spambots. You need JavaScript enabled to view it..
---
Community Outreach- Low-Income Students and Families

All residents of the Acre (especially children) and low-income and middle-income families can tour the Whistler House Museum of Art FREE OF CHARGE.
These residents have always received FREE ADMISSION to all of our exhibition openings, tours, lectures and concerts.
FREE SCHOLARSHIPS will be awarded to talented art students from low-income and middle-income families from Lowell.
---
Michael S. Vieira, Artist & Instructor. Michael studied at The School of the Museum of Fine Arts, as well as The Ingbretson Studio of Drawing & Painting. He has taught classes at the Whistler House Museum of Art, Chelmsford Center for the Arts and other galleries. His paintings have been exhibited in MA, NH, TX, RI, and Portugal.
Emily Sevigny, Artist & Educator. Emily has a BFA from Mass College of Art, and a Masters in Education in Art from Framingham State College. She is currently working in collage and mixed media and has exhibited in a number of galleries in the Lowell area. She has been teaching Middle School Art in Wakefield, MA since 2007.
Lisa Kovvuri, Artist. Lisa has a BFA from the Cleveland Institute of Art. She also studied at Studio Incamminati in Philadelphia, Ingbretson Studio and with Boston School painter Sam Vokey. Her paintings have been shown in exhibits around the country including the Salmagundi Club in NY. Lisa is one of the Whistler House Studio Artists.
Mary Rose O'Connell, Artist. Mary Rose has studied for many years with Mary Minifie, a current master of the Boston School. An active member of the Oil Painters of America, Mary Rose has won awards at exhibits at a number of locations including The North Shore Art Association, The Rockport Art Association, and the Whistler House Museum of Art. Mary Rose is one of the Whistler House Studio Artists.