Symposium: Saturday, April 18, 1-4PM
Exhibition: Through April 25, 2015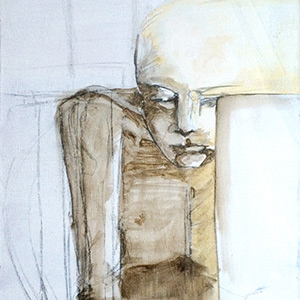 April is International Genocide Awareness and Prevention month. In conjunction with the multi-cultural Genocide Exhibition, Pursuing Justice Through Art: 2015, currently on exhibit through April 25, 2015, the Whistler House Museum of Art is pleased to present the Pursuing Justice Through Art Symposium on Saturday, April 18, 2015 from 1-4PM.
The event is free and open to the public and a variety of international foods will served.
RSVP
To reserve a seat at the Symposium, please This email address is being protected from spambots. You need JavaScript enabled to view it. .
The Presenters
Five speakers will present brief talks from within their specific disciplines. The speakers attending the symposium are:

Diana Der-Hovanessian will present "Why were poets (250 of them) the first victims of the 1915 genocide?" Der-Hovanessian, a New England born poet, was twice a Fulbright professor of American Poetry and is the author of more than 25 books of poetry and translations. She works as a visiting poet and guest lecturer on American poetry, Armenian poetry in translation, and the literature of human rights at various universities in the USA and abroad. She serves as president of the New England Poetry Club.

Amy Fagin will present "Genocide: Chronology and Geography; A Global Perspective." Amy Fagin is a U.S. based visual artist specializing in the traditional art form of manuscript illumination. She is the author of Beyond Genocide; an emerging series of illuminations narrating a visual perspective on global incidents of genocide and mass violence. Ms. Fagin is also an independent scholar in genocide studies and conducts research / seminars, lectures, workshops and advisory work on global initiatives of memory and memorialization through individual and collective arts expression and the museum experience.

Kim Servart Theriault, Ph.D. will present "Trauma, Memory and the Dilemma of Representation." Dr. Theriault holds a Ph.D. in Art History from the University of Virginia and is currently a Professor of Art History, Theory, and Criticism at Dominican University in River Forest, IL. She has several academic publications to her credit including Rethinking Arshile Gorky and the essay "Exile, Trauma, and Arshile Gorky's The Artist and His Mother."

Dr. Elliott W. Salloway will present "Genocide... The Paradox of Human Nature." Dr. Salloway is the USA founder of Project eXodus, an international organization that explores the issues of genocide and human nature through art exhibitions, raising awareness throughout the world. He is the COO of the Boston Global Forum, founded to bring together leaders and experts from around the globe to discuss and solve the most critical issues affecting the world at large.

Sayon Soeun is a survivor of the Cambodian Genocide and featured in the documentary Lost Child: Sayon's Journey. Sayon will present his story and a short clip of the documentary. He was abducted at the age of six, exploited by the Khmer Rouge, his family life and education stolen. His recovery and redemption from unimaginable evil entails his transition from an orphanage in a refugee camp to adoption by a loving American family. After more than 35 years, he recently made contact with brothers and a sister he assumed were dead.
Pursuing Justice Through Art 2015 Exhibition
The exhibition will be open for viewing during the Pursuing Justice Symposiu and is also open to the public Wednesday through Saturday from 11AM - 4PM until April 25, 2015.
Please click here for more information on the Exhibition.
Images (top): Crissie Murphy, A Hard Place, oil, charcoal, and graphite.
(above): Hope Ricciardi, Diaspora, collage and oil on fir panels.
This program is sponsored in part by the following:
Sign Up
To stay up-to-date on all WHMA exhibits and events, join the mailing list: click here
Become a Member
Your membership helps to support our many programs & events. Join here.