Reception: Sat., Nov. 22, 2014, 2 - 4 PM
Exhibit Runs: Nov. 19 to Jan. 17, 2015
A diverse representation of the artist members of the Whistler House Museum of Art and Lowell Art Association, Inc., including oil, watercolor, mixed media, photography, and more. Jurors this year are artists Barbara Gagel and Gallery Coordinator of the University Gallery at UMass Lowell, Deborah Santoro.
Each year the WHMA invites members to submit artworks of any style or medium for consideration in the exhibit. Member artists and over a dozen brand-new artist members submitted nearly 200 works of art.
The Whistler House Museum of Art would like to give special thanks to this year's jurors, Barbara Gagel and Deborah Santoro, who lent their time and expertise to selecting artworks from the artists. Barbara and Deborah will also choose the winning works for the Best in Show and Honorable Mention prizes.
Barbara Gagel, a New Mexico Women Artists recipient of the Annual "Originals" Award, has exhibited in New Mexico at the Millicent Rogers Museum, Zane Bennett Gallery, the Encaustic Art Institute, Vivo Contemporary, and at the Conrad Wilde Gallery in Tucson, Arizona. In the past few years, she has shown her work locally in Massachusetts, where she now resides, at the Kobalt Gallery in Provincetown, and Ayer Lofts Gallery in Lowell. Since 2008, she has conceived eight solo shows and participated in eight group shows.Deborah Santoro is an artist, curator, and writer. After 8 years of curating for the Owen Smith Shuman Gallery of the Groton Public Library, she accepted the Gallery Coordinator Position at the University Gallery at UMass Lowell in January of 2014. Her work as a printmaker incorporates figures in a series of yoga poses with Islamic tile patterns, Japanese kimono patterns filtered through English aesthetic transfer-ware, and other places of cross-cultural migration. Visitors are welcome to view the accepted artworks for the Annual Juried Members Exhibit at the Whistler House Museum of Art from November 19, 2014 through January 17, 2015, and are invited to attend the opening reception being held Saturday, November 22, from 2 - 4 PM. Regular open hours are Wednesday through Saturday, 11 AM - 4 PM.
For prospectus and information click here. (Submissions are no longer being accepted.)
Image: Lisa Kovvuri, Three for Tea, oil on linen.
Press: For a larger resolution image click here.
---
---
Coming Up: AN EYE FOR COLOR
Works by Ann Christensen & Anne Silber
Exhibit: Jan 28 - Mar 7, 2015
Reception: Sat, Feb 7, 2 - 4 PM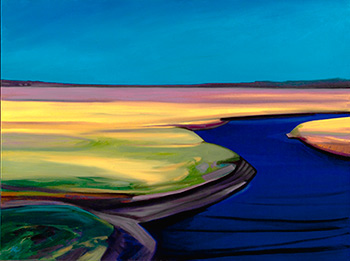 The Whistler House Museum of Art is pleased to announce the upcoming exhibition, An Eye for Color: Works by Ann Christensen and Anne Silber. The public is invited to join us for an opening reception on Saturday, February 7 from 2 - 4 pm.
Ann Christensen attended Colby College, majoring in mathematics, and later studied graphic design with Dietmar Winkler of Southeastern Massachusetts University. She also studied art history at Harvard, MIT, Boston University, and Northeastern University and painting at Harvard and the School of the Museum of Fine Arts, Boston. Cezanne, Matisse, the Fauves, the Post-Impressionists, and American Abstract Expressionists are among her artistic influences.
Christensen's expressive use of color earned her the National Faber Birren Color Award in 1992, the Faber Birren Founder's Award in 1997, and the Faber Birren Revington Arthur Foundation Award in 2001. Her affiliations include the Cambridge Art Association, Concord Art Association, Arts League of Lowell, and the Whistler House Museum of Art/Lowell Art Association. Her artwork is widely collected throughout the United States and Europe.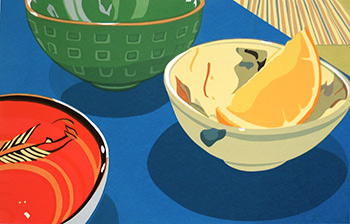 Anne Silber, who earned her BFA from Cornell University in Ithica, New York, has lived and worked in the Boston area since 1977. Silber's work has been shown in numerous solo and group exhibitions around the United States and Europe, and her prints are included in many corporate and museum collections. Many of her landscapes and cityscapes are inspired by her love of foreign travel and the countries she has visited, though the city of Boston provides inspiration as well.
Silber's serigraphs, or silkscreen prints, are hand-printed using hand-cut lacquer film stencils. She enjoys working with colors to create harmonies and occasional dissonance with a combination of tones. Her works have appeared on the sets of over one hundred feature films and television series, including Grey's Anatomy, The West Wing, The Departed, and The Bucket List.
Images:
Ann Christensen, Mainly Marsh, oil, 30 x 40 in.
Anne Silber, Three Bowls, serigraph, 20 x 26 in.
Sign Up
To stay up-to-date on all
WHMA exhibits & events,
join the mailing list:
click here