AN EYE FOR COLOR
Works by Ann Christensen & Anne Silber
Exhibit: Jan 28 - Mar 7, 2015
Reception Rescheduled to Sat, March 7, 2 - 4 PM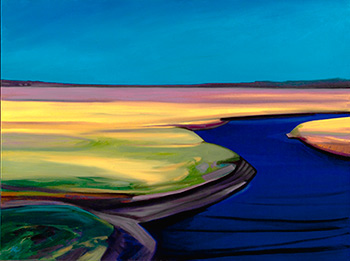 The Whistler House Museum of Art is pleased to announce the upcoming exhibition, An Eye for Color: Works by Ann Christensen and Anne Silber.
The public is invited to join us for a closing reception on Saturday, March 7 from 2 - 4 pm.
Ann Christensen attended Colby College, majoring in mathematics, and later studied graphic design with Dietmar Winkler of Southeastern Massachusetts University. She also studied art history at Harvard, MIT, Boston University, and Northeastern University and painting at Harvard and the School of the Museum of Fine Arts, Boston. Cezanne, Matisse, the Fauves, the Post-Impressionists, and American Abstract Expressionists are among her artistic influences.
Christensen's expressive use of color earned her the National Faber Birren Color Award in 1992, the Faber Birren Founder's Award in 1997, and the Faber Birren Revington Arthur Foundation Award in 2001. Her affiliations include the Cambridge Art Association, Concord Art Association, Arts League of Lowell, and the Whistler House Museum of Art/Lowell Art Association. Her artwork is widely collected throughout the United States and Europe.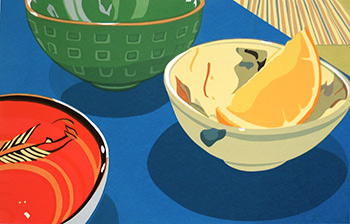 Anne Silber, who earned her BFA from Cornell University in Ithica, New York, has lived and worked in the Boston area since 1977. Silber's work has been shown in numerous solo and group exhibitions around the United States and Europe, and her prints are included in many corporate and museum collections. Many of her landscapes and cityscapes are inspired by her love of foreign travel and the countries she has visited, though the city of Boston provides inspiration as well.
Silber's serigraphs, or silkscreen prints, are hand-printed using hand-cut lacquer film stencils. She enjoys working with colors to create harmonies and occasional dissonance with a combination of tones. Her works have appeared on the sets of over one hundred feature films and television series, including Grey's Anatomy, The West Wing, The Departed, and The Bucket List.
Images:
Ann Christensen, Mainly Marsh, oil, 30 x 40 in.
Anne Silber, Three Bowls, serigraph, 20 x 26 in.
A Multi-Cultural Genocide Exhibition and Symposium
Exhibit Dates: March 18 - April 25, 2015
Opening Reception: Saturday, March 21, 2-4PM
Symposium Date: Saturday, April 18, 1-4PM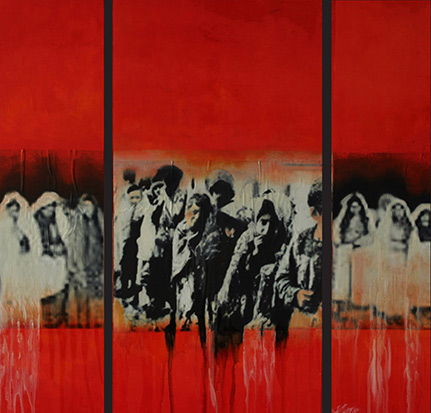 The premise for this exhibition is to bring attention to "genocide," the fragmented history of various cultural groups, (Ex: Armenian, Jewish, Cambodian, Bosnian, Sudanese, Rwandan, Native American, etc.) and to use art as a means of awareness and education of man's inhumanity. Genocide is the systematic and widespread extermination or attempted extermination of an entire national, racial, religious, or ethnic group. Genocide, whether committed in time of peace or in time of war, is a crime under international law. This year is significant in that it is the 100th Anniversary of the Armenian Genocide, the 70th Anniversary of the end of the Jewish Holocaust and the 40th Anniversary of the Cambodian Genocide. All works of art presented are rooted in genocide memories and commemoration, presenting stories through artistic expression.
Artists
Mohammed Ali and Al Asadi, Gagik Aroutiunian, Bayda Asbridge, John Avakian, Ani Babaian, Stephen Clements, Ellen Davison, Adrienne Der Marderosian, Dave Drinon, Charlotte Eckler, Amy Fagin, Fanardjian (loaned by Stephen Dulgarian), Lynne Foy, Gillian Frazier, Charles Gallagher, Mary Hart, James Higgins, Raymond Howell (loaned by Eve Soroken), JoAnn Janjigian, Andrew Ellis Johnson, David Jones, Lucine Kasbarian, Mico Kaufman, Chantha Khem, Puthearith Kret, Sandra Lauterbach, Markus Lewis, Adam Mastoon,Talin Megherian, Crissie Murphy, Ruth Naylor, Marsha Nouritza Odabashian, Judith Peck, Dany Pen, Sandra Presley, Bill Reedy, Hope Ricciardi, Jennifer Rocco Stone, Alain Rogier, LinDa Saphan, Susanne Slavick, Jessica Sperandio, Rose Sielian Theriault, Nora Tang, Sopheap Theam and New England Quilt Museum's Community Quilters, Rita Thompson, Robert Thurlow, Holly Tomlinson, Carol Vinick, Denise Warren.
Symposium
More details on symposium speakers, films and other related events will be posted here as they become available.
Correspondence
Please direct any e-mail inquiries to Heather Linton at: This email address is being protected from spambots. You need JavaScript enabled to view it. .
Prospectus
Review and download the prospectus here.
Image: Hope Ricciardi, Diaspora, collage and oil on fir panels, 24 x 24 in.
This program is sponsored in part by the following:
Sign Up
To stay up-to-date on all WHMA exhibits and events, join the mailing list: click here
Become a Member
Your membership helps to support our many programs & events. Join here.