IN THE GRAND HALLWAY AND PORTRAIT GALLERY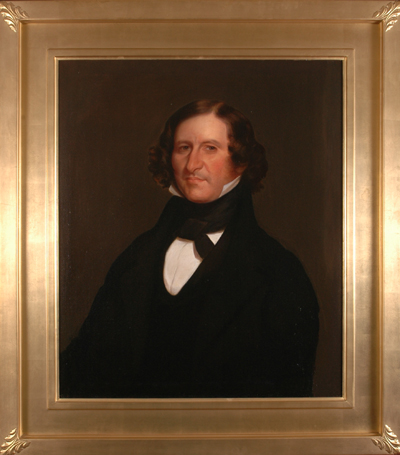 "Major George Washington Whistler" by William S. Elwell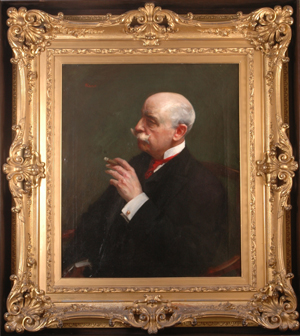 "David Neal" by Oscar Feher
"Philip Marden" by Marie Danforth Page
"Portrait of Woman in Profile" by Mary Earl Wood

SECOND FLOOR
Etchings by Whistler, including "Annie Seated" 1858, "The Pool" 1859, "The Old Rag Woman" 1859, "Bibi Lalouette" 1859. Whistler's etchings are known for their sensitivity of etched line as well as atmospheric effects which he created by varying the inking of the plate in brown tones, a technique that was considered a novelty at the time. Whistler was considered eccentric and controversial for his manner of entitling his etchings with a number as well as a title and for distributing white and yellow butterflies at his exhibitions. The butterflies were counterparts for his unique butterfly monogram which is usually imprinted on his etchings. Whistler's etchings were printed in few impressions and are considered very rare. (Source: Antiques & Art Around Florida, Lorena Overstreet Allen, M.Ed., ISA)
Drawings & Paintings by Arshile Gorky - The Mina Boehm Metzger Collection
More from our permanent collection, including works by Aldro Thompson Hibbard, John Singer Sargent, William Preston Phelps, and William Henry Holmes.

THIRD FLOOR
The studio for the Whistler House Artist-in-Residence is located here. The Artist-in-Residence program provides talented artists the opportunity to work in this beautiful artist loft.
Visitors are encouraged and welcomed to stop by and talk with our current Artist-in-Residence, Dave Drinon.

Artwork from the Museum's permanent collection is on display in the galleries of the historic house. The focus of the collection is late nineteenth century and early twentieth century American representational art, with special emphasis on the artists of New England. Among the artists represented are Frank Weston Benson, Thomas B. Lawson, William Morris Hunt, William M. Paxton, David D. Neal, Frederick Porter Vinton, William Preston Phelps, Cullen Yates, and Aldro T. Hibbard.
IN THE FRANCIS ROOM
Portrait of "James B. Francis" by R.M. Staigg


"Apres James McNeill Whistler, Arrangement in Grey and Black" 1906, Oil on canvas, by Edith Fairfax Davenport, a cousin of Whistler. This is an exact scale copy of the original painting which, it is said, heralded modern art. The original hangs in the Musee D'Orsay in Paris.


"Lowell in 1825", Oil on canvas, by Benjamin Mather. One of the earliest known views of Lowell.


"Rev. Theodore Edison, 1875" by Thomas Bayley Lawson


IN THE MAIN GALLERY
"The Children" by Frank W. Benson
Works by Arshile Gorky, George Loftus Noyes, Harold C. Dunbar, William Preston Phelps, Frederick Porter Vinton, Louis Kronberg, William Morris Hunt, and Thomas Bayley Lawson