Meet the Whistler House Museum of Art's October Artist of the Month:
Originating from her urban photographs, Wendy's oil paintings depict mundane in-between moments with figures and scenes that are not typically regarded as beautiful. The compositions often incorporate contrasting colors, saturated hues, and unusual viewpoints. Wendy's paintings encourage the viewer to rethink and enjoy our common, everyday spaces.
Wendy's black and white photomontages depict surreal environments. The unrecognizable figures encourage the viewer to momentarily become the person in the photos as they enter a dream-like experience. She uses Photoshop to juxtapose unlikely combinations. Her intent is to fool the eye for a brief moment into believing the scene as plausible.
Earning a BA in Art Education, Wendy began her 37-year teaching career at Essex High School in Vermont where she taught photography and ceramics. After her children left the nest, Wendy started exhibiting her photography and ceramics in shows and galleries. Drawn to explore color, Wendy began oil painting at age 50. Experience with Photoshop made altering her photos quick and exciting while creating vibrant colors and simplified shapes. She began using her laptop's altered photos as "sketches" alongside her easel while painting.
Upon retirement, Wendy and John Brickels, her sculptor husband, moved to Lowell to be closer to their grandsons in Groton. They presently reside at Western Avenue Lofts. They also share Studio 207 at Western Avenue. In addition to the Whistler House, Wendy is a member of Lowell's Western Avenue's Loading Dock Gallery and the Brush Gallery. Wendy also creates ceramic sculptures and pottery.
The WHMA is excited to share with you a collection of Wendy's work. If you are interested in purchasing any of these works of art, contact the Whistler House Museum of Art at 
This email address is being protected from spambots. You need JavaScript enabled to view it.
 or call
(978) 807-6699. 
"Garage Lot"
"Got Green"
24" x 18"
$900
"High Line"
24" x 18"
$900
"Mill Meadow"
24" x 18"
$900
"Red and Yellow"
24" x 36"
$1200
"Alley Track"
18" x 24"
$900
"Suit Window"
24" x 18"
$900
"Three"
18" x 24"
$900
"Tux Window"
18" x 24"
$900
"Two Bag Morning"
18" x 24"
$900
"Underpass"
18" x 24"
$900
"Western Ave Train"
18" x 24"
$900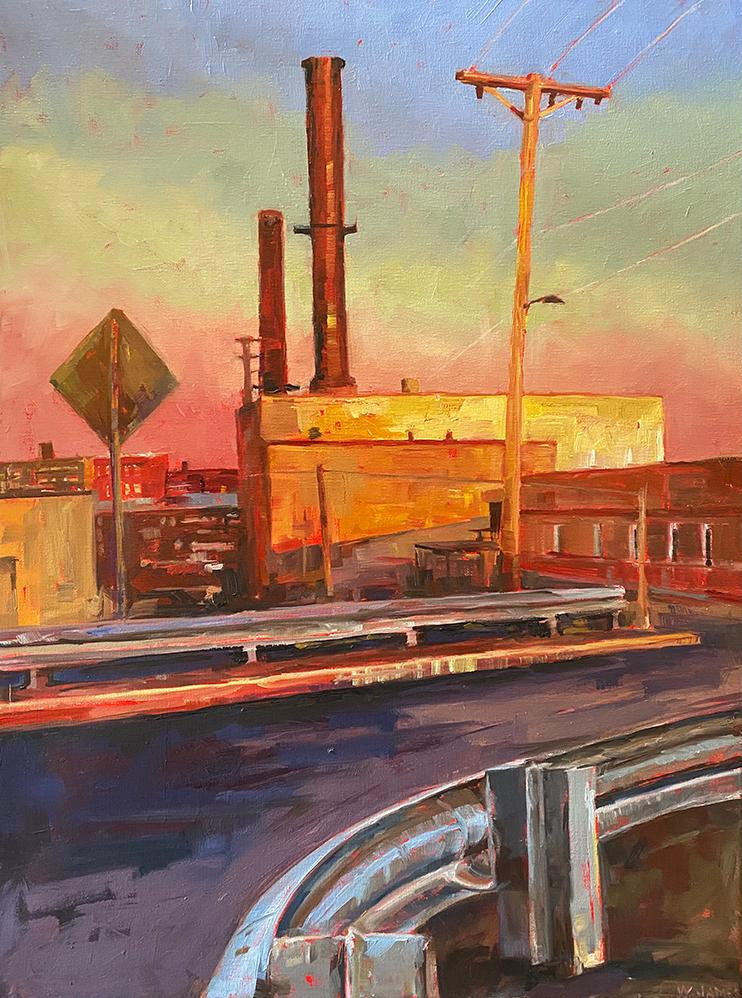 "Western Rail"
24" x 18"
$900  
Wendy James' Photomontage Collection
"High Notes"
"Out to Dry"
"Side Street"
"Duck Canal"
"Drawing in the Trees"
"Water Windows"
"Giant Steps"
"Contemplative"