Meet the Whistler House Museum of Art's November Artist of the Month:
At a very young age, Monique Sakellarios knew she wanted to be an artist. Born in Egypt, she took art classes for several years at the Leonardo Da Vinci School of Art in Cairo. Her teacher told her, "You paint like Monet". Since then, people have often told her the same thing. Monique is inspired by his subject matter and style, but does not paint like Monet. Like all impressionists, Monet painted on a white canvas. However, Monique primes her canvas with cadmium red. Painting on red changes all the colors that are applied over the red, but it gives her paintings a flow. Thus, the viewer gets the impression that the light is coming from "behind" the painting.
Monique first exhibited her work at the Whistler House Museum of Art as part of an "amateur show". At the time, her style was realistic and her focus centered around portraits. A few paintings later, she decided to switch to her true love: Impressionism. A few years ago, she added abstracts and semi-abstracts to her repertoire. She used to believe that artists painted abstracts because they could not paint, and was surprised to discover that painting abstracts are actually very difficult. With no memory, no reference, no image—it is all pure imagination!
Monique's first solo exhibit as a professional artist was also at the Whistler House Museum of Art. She was very encouraged at that time to enter national competitions. Since then, she has competed nationally and has won countless national awards. As a result, she was invited to become a signature member of the Oil Painters of America, a national organization dedicated to the preservation of representational art. Becoming a signature member of Oil Painters of America gave her the permission to add the initials "OPA" after her signature. Later on, she was also invited to become a signature member of the National Oil & Acrylic Painters Society.
Along with countless galleries and shows, Monique's work has been exhibited in the following museums throughout the U.S.: 
Whistler House Museum, Lowell, MA
Water Mill Museum, Hamptons, NY
Fitchburg Art Museum, Fitchburg, MA
Gilcrease Museum, Tulsa, OK
Russell Museum, Great Falls, Montana
International Museum of Contemporary Masters of Fine Art, San Antonio, TX
Newport Art Museum, Newport, RI
Monique has also been invited by the French Ministry of Culture and Foreign Affairs to exhibit her work in Andrezieux-Boutheon, France.
She was interviewed twice on Channel 9 Four News, Manchester, NH. Her television educational programs were featured on Chelmsford Community TV, Peabody Community TV, Lynnfield Community TV Channel 17, and Channel 8 Chelmsford, Lowell, and Billerica
The WHMA is excited to share with you a collection of Monique's work. If you are interested in purchasing any of these works of art, contact the Whistler House Museum of Art at 

This email address is being protected from spambots. You need JavaScript enabled to view it.

 or call (978) 807-6699.
For more information regarding participation
in the "Artist of the Month Program", contact 

This email address is being protected from spambots. You need JavaScript enabled to view it.

.
A Summer Place
Oil on canvas
9" x 12"
$750
A Tuscan Summer
Oil on canvas
12" x 12"
$900
At the Pond
Oil on canvas
16" x 20"
$1,600
City Lights
Oil on aluminum
18" x 24"
$1,500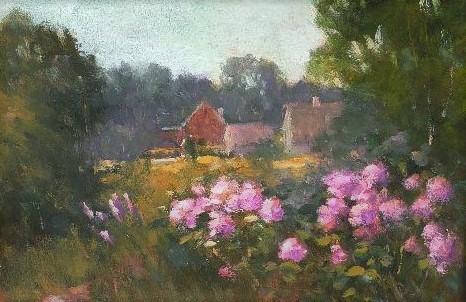 Poppies
Oil on canvas framed in black and gold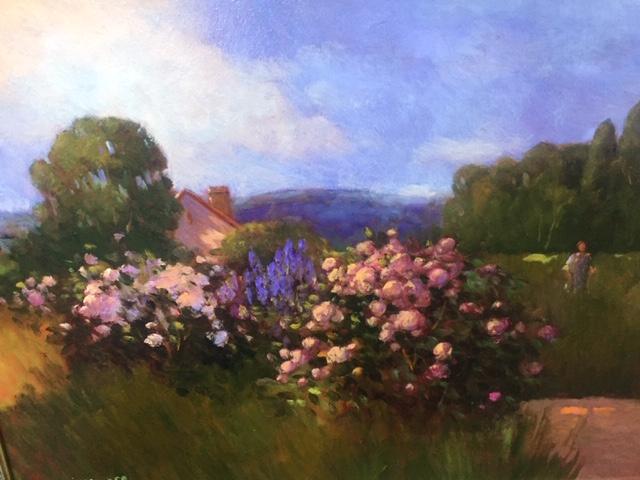 With a Friend in Poppy Fields
Oil on canvas

---