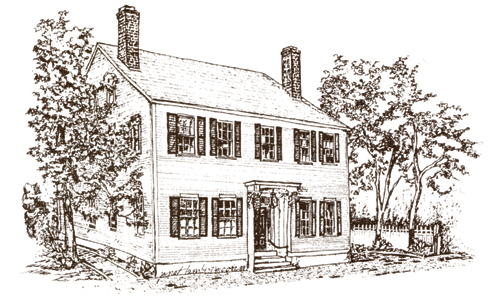 Architecture: The historic home at 243 Worthen Street was built in 1823. Incorporating both Federal and Greek Revival characteristics, the home's main features include:
An L-shaped plan, with three floors, 14 rooms and 10 fireplaces.

A main rectangular block five bays wide and four bays deep, with a frame addition to the rear which appears to be original.

Granite used for the front steps as well as for the foundation; double wall construction for insulation.

The front façade's fenestration is rigidly symmetrical. Pairs of windows flank a central entrance.

Four tall chimneys are located at the corners of the house.

Palladian motif, Greek Revival cornice returns.
Residents (with dates of residency): From 1823 to 1869, the WHMA was home to many of the leaders of Lowell's and America's Industrial Revolution. James McNeill Whistler was born in the house and his mother, Anna Whistler, is the subject of one of America's most famous paintings, "Whistler's Mother" (Arrangement in Black and Grey).
Paul Moody (1823-1831)
Major George Washington Whistler (1834-1837)
Anna Whistler (1834-1837)
James McNeill Whistler (1834-1837)
George Brownell (1837-1845)
James Bicheno Francis (1845-1869)