Exhibition: June 24 - July 25, 2015
Reception: Saturday, June 27, 2-4PM
Lydia Martin: Lotería II
Parker Gallery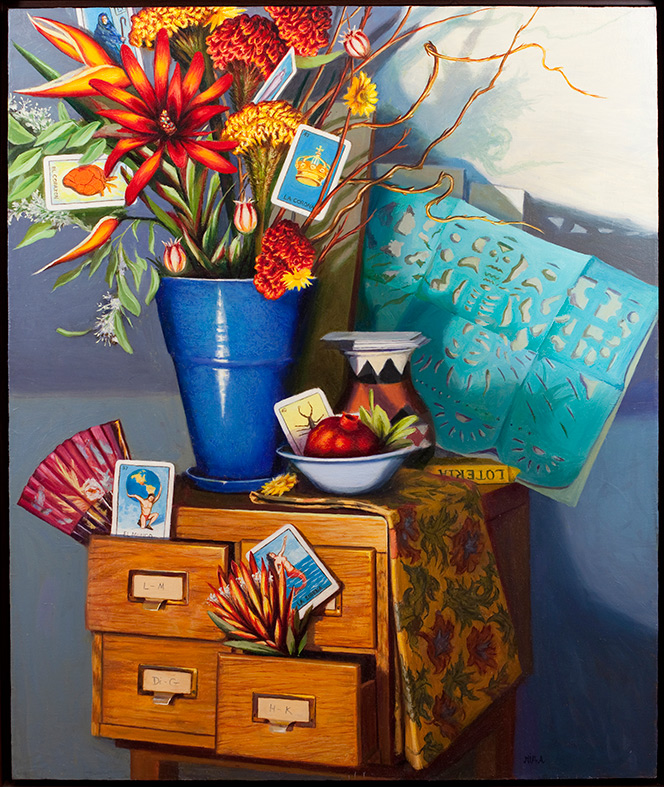 Contemporary realist artist, Lydia Martin, has created a new series of oil paintings inspired by the traditional images associated with the popular Mexican game Lotería, a version of Bingo, which utilizes pictorial cards instead of letters and numbers. Using the game's stock images as her focus, the artist works across genres - such as the figure ("La Sirena," "El Musico," "La Bota"), interior ("El Sol"), and still life ("La Estrella," "La Maceta," "El Diablito") to offer fresh interpretations of the concepts that stand behind the game's rich folkloric history.
Awarded a 2013 Whiting Foundation Fellowship to study in Paris, France, the artist's works have been included in juried and invitational gallery and museum exhibitions across the country, receiving awards in oil painting and pastel.
Recognized by the Art Career Project as one of the "15 Notable Art Professors in Boston," she teaches classes in drawing and painting at Suffolk University. Internationally, her works have been included in private and public collections in Italy and the Netherlands.
Ms. Martin attended the Pennsylvania Academy of Fine Arts and the Massachusetts College of Art. www.lydiamartinstudio.com.
Image: Lydia Martin, Lotería, oil on Belgian linen, 40x30". Click here for a high resolution image.
The Light in Small Towns: Priscilla Levesque
Members Room
Taking inspiration from 19th century landscape artists such as Pissaro, Seurat, Signac and Luce, Priscilla Levesque employs pointillist techniques in creating the optical positioning of a number of small colored dots which, when viewed at a distance, appear to merge into one color.
Levesque is represented in several New England Galleries and collections and is affiliated with the Concord Art Association, the Falmouth Artists Guild, the Provincetown Art Association and the Whistler House Museum of Art.
Image: Priscilla Levesque, Central Baptist Church, casein, 7.5 x 10.25". Click here for a high resolution image.
This exhibition is sponsored in part by: